Post by Robert Bishop on Jun 10, 2016 16:30:56 GMT -5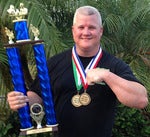 I'll get the rest of you, too, and your little atheist dogs, too! Just kidding. All we can do is pray for them. I've met a lot of people who claim to be atheists. After some friendly banter I discover they are actually agnostic. That's a pretty easy reach for God if we do our part.
somebody had to John (pray for me)...lol Lord knows i needed it.
like a lot of folks on here, experiences bring God into your life....I asked God to show himself. Guess what he did!! I don't preach to anyone i just speak from the heart. i have my moments of doubt and still question everything. But I've experienced God first hand and I accept Jesus Christ as my Lord and Savior.
I probably don't look at things the same way some you guys do, but Ultimately it's about do you believe.
I spent many years with bubbled up hatred and pain. I lost my Dad who my best friend in the world, this spun my life around. I stopped being a husband, i stopped being a dad. There was signs of a good person in me, but evil prevailed and guided me to wrong side of Heaven. (for you Metal heads out there). My Dad gave his life to Christ before he died. I held his hand and felt his last breath. I think he wanted me to find a better side of me, and I have.
I feel as if a Dark cloud was following me around and I could do no right. I was considering suicide a few years back and something snapped in me and EVERYTHING changed for me. That black cloud lingers around at times but I now handle it much better than before.
I've suffered from Depression for many years and I used alcohol to medicate it....that's why I won't let people talk crap about people who suffer from depression. Depression is REAL, it's no joke....
I always said I was a free thinker, and left my mind open for change. There you go. change happened folks, and I've been on both sides of the coin.
I love and cherish my family, and also love and cherish the guys on my Arm wrestling Team, these guys stood by me in my worst times. I couldn't ask for better Team mates, because it's always been about more than AW....it's about family. too much to read....i'm done.
the TK update!!
TK
wow that's awesome